We At Colorwale Provide Services Ranging From
Home Sanitization will be done by a team of professionals who are in cleaning industry for long time and trained for excellent workmanship. And we will be using Pro grade products. So, combining both we can ensure no germs/bacteria's or viruses are left on the affected areas. For best results, we recommended to get Disinfection or Sanitization done on periodic basis as the deadly injectants would contaminate through air, water too.
Our Disinfectant professionals would mask themselves with the PPE kit, gloves and other industry standard safety gadgets while executing the work. Once the task is done, the kits are either discarded or sanitized and washed as per the guidance of the manufactures.
No, the chemicals or disinfectants used are non-hazardous for human beings or any mammals. Our experts use only chemicals which are approved by govt agencies for domestic use. When it comes to sanitization, it will be based on the steam so no harmful chemicals will be used in the process except for clean water.
Colorwale will be using advance pressure steaming technology which will ensure that your houses and offices are completely germ free.
With this technology, we can assure you that it will kill all kinds of bacteria and germs from your furniture and other items present in your house as well as your offices. The extreme pressure steam from the device kills all kinds of viruses.
This process doesn't require any pre- arrangements so it can be done easily anytime.
We are Easy to book and provide you affordable services.
The on-site work will be carried  out by our trained professionals.
Our trained team will be fully equipped with protective suits.
High quality disinfectant solution will be used and clean all the  places which are regularly used by the occupants.
The area should remain enclosed while the treatment is going  on and the solution which has been sprayed should be left undisturbed for 15 minutes.
Ariel disinfection will also be carried out with high quality solution.
Make your apartments, gyms and all kind of commercial places virus free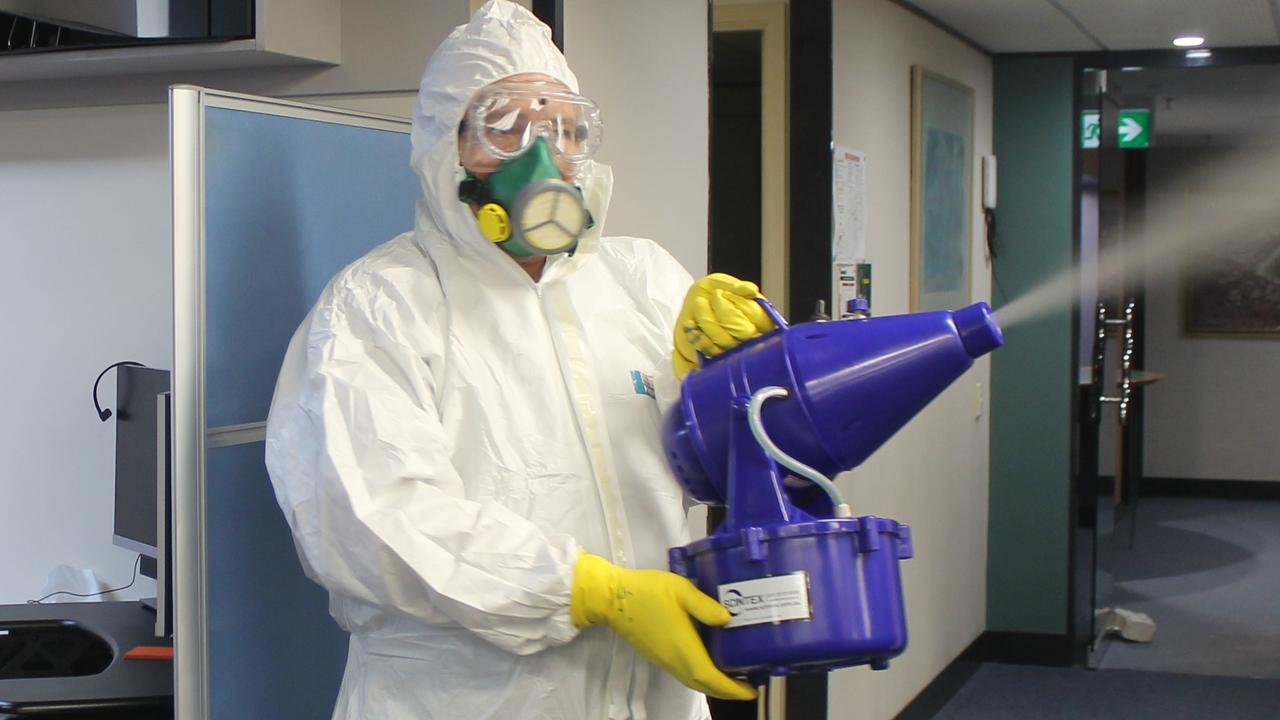 All of us spend so much time in our work place, schools, colleges and other commercial spaces. Such areas of high traffic of people have higher chances of playing host to microscopic organisms. Poor sanitation of the surroundings often helps in spreading illness. And to stop this we need proper Sanitation process.
During this difficult time, when the corona virus is creating havoc everywhere, Colorwale is providing you the specialized Sanitization and disinfectant packages for your apartments, gyms and all kinds of commercial places. With the us of excellent technology and expert team we will help you to keep your surroundings germ free.
Best Disinfectants & Sanitizers
Virex ii 256 It is the product of Diversey company. It is one-step disinfectant cleaner and deodorant. Virex ii 256 is mainly for clean and disinfect solid surfaces.This kills the kills microorganisms. Generally we are using it in hospital cleaning and general institutional facilities like mall and schools
Pre-clean heavily soiled areas
Dilute a 1:256 solution into a bucket, bottle, scrubber or other container
Apply solution to hard, nonporous environmental surfaces. To disinfect, all surfaces must remain wet for 10 minutes
Air Dry, wipe surfaces to dry and remove any residue, or rinse with potable water as necessary.
Nerokem Germsol Sanitizer We are using Nerokem Germsol Sanitizer for broad spectrum (like open areas, whole house or complete office) for Sanitization. Its very good product for cleaner cum sanitizer>Floor care
Restroom care
General Cleaning & Sanitation
Kitchen & Food Safety
Carpet Care
Surface cleaning and sanitation
Clorox Disinfecting Bleach Clorox providing so many disinfectants. Which we can use for lasrg cale cleaning. Clorox Disinfecting Bleach one of most useable product for disinfection of home and office space.
Apply on Pre-wash surface
Mop or wipe with solution of 1/3 cup bleach to 1 gallon of water
Allow solution to contact surface for at least 6 minutes
Rinse well with clean water and let surface air dry
Pandemic Special measures taken by Colorwale
1.) Our complete work forces are in-house team, and are accommodated by company in the areas which are recognized as Green zones by Government. And we have made sure they have followed all guidelines given by Government during and Post lockdown.
2.) All the essentials and food supplies are taken care by our company to ensure workers don't go out and risk their health.
3.) Complete team has been provided with Masks, Sanitizers and required uniform to protect themselves from any kind of air borne infections. Home Sanitization & Deep Cleaning professionals are all geared with PPE kit as additional safety measures.
4.) Thermal scanning has been implemented and temperatures of all workers are recorded on daily basis. Our HR team has been strictly involved in keeping a track of health conditions of each and every workers.
5.) Logistic and procurement of materials have been given at most care to ensure a safe commute of workers and zero contact delivery of goods required for work.
6.) Training and special attention has been given on hygienic practice and social distancing for additional personal care.
Note:- With all these initiatives, we can ensure that our customers are gets safe work environment, in budget without any compromise in quality.
Professionalism & Business Transparency
Detailed & Itemized Proposals